The Bahamas hit by the terrifying hurricane Dorian with gusts of 160 kt
The Bahamas hit by the terrifying hurricane Dorian with gusts of 160 kt
September 01, 2019 : 13 UTC - The powerful and violent hurricane DORIAN hit the northern Bahamas. Wind gusts in the eye wall is estimated to 160 kt.. The impact is going to be terrifying for Abaco soon and Grand Bahama Island.
Hurricane DORIAN has become a terrifying monster. The cloud pattern remains IMPRESSIVE! The eye is always well-defined, surrounded by a solid and symmetrical ring of deep convection. It has all the aspects of a very extreme and dangerousness cyclone. The recent aerial investigation by the "hurricane hunter" releved maximum winds of 130 kt with gusts to 160 kt. The cyclone is near to category 5 status.
Unfortunetely, DORIAN move toward westward. This suggests a direct impact on Abaco Islands and Grand Bahama. Furthermore, the hurricane is expected to slow significantly. The islands should expose a prolonged period of life-threatening storm surge, devastating hurricane-force winds, and heavy rains capable of producing flash floods on Abaco Islands and Grand Bahama tonight and monday.
This slow down is unfavorable for the Bahamas but a good news for Florida. The probability of a radical change of track before landfall over the peninsula increases. The ridge that is currently forcing westward will collapse, leaving an opening to the north. The latest NHC forecast suggest a mort northward track, that reducing the risk of a direct impact.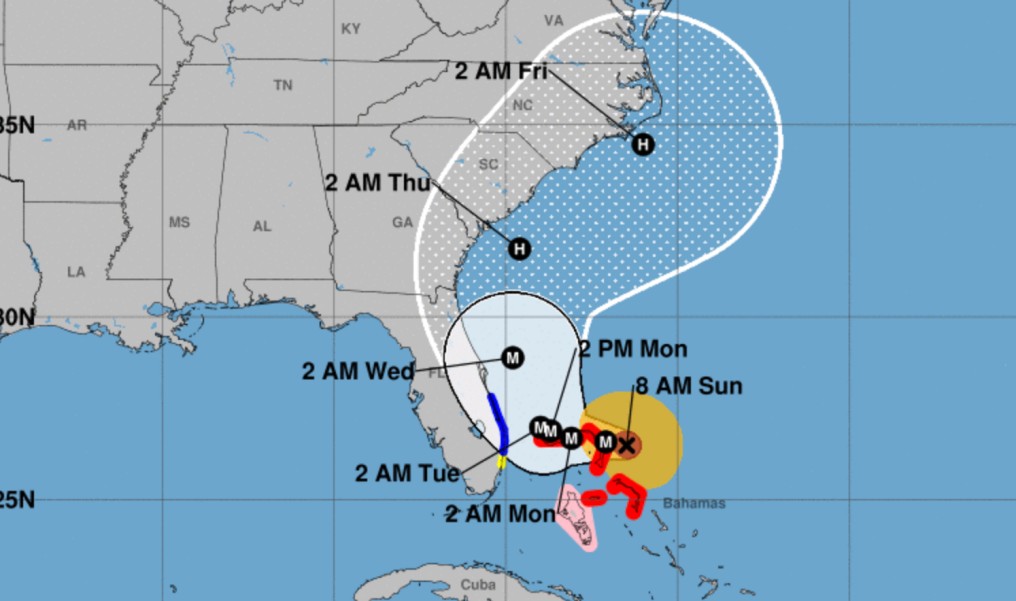 However, these forecasts are to be taken with caution. The eastern shores of the peninsula are still in the area of uncertainty. The latest NHC forecast suggests that DORIAN move along east coast of the peninsula on Tuesday and Wednesday. At this time, landfall is not totally excluded, and the center of the cyclone can passed near the coast and produce hurricanes conditions.
PR
Source: NHC