TC MEKUNU, landfall over Oman in the next 48h
TC MEKUNU, landfall over Oman in the next 48h
Tropical cyclone MEKUNU was centered at 0300UTC near 13.3 0N and 55.4 0E, about 440 km south-southeast of Salalah (Oman). It is expected to cross south Oman - southeast Yemen coasts with wind speed of 160-170 kmph gusting to 190 kmph around 26th May, 2018 morning.​
TC MEKUNU should continue to intensify
Tropical cyclone MEKUNU has tracked north northwestard with a speed of 11 Kmph according Regional Specialized Meteorological Center (CMRS) of New Delhi. At 0300 UTC it was located about 180 km east-northeast of Socotra Islands and it is expected to intensify further during next 24 hours.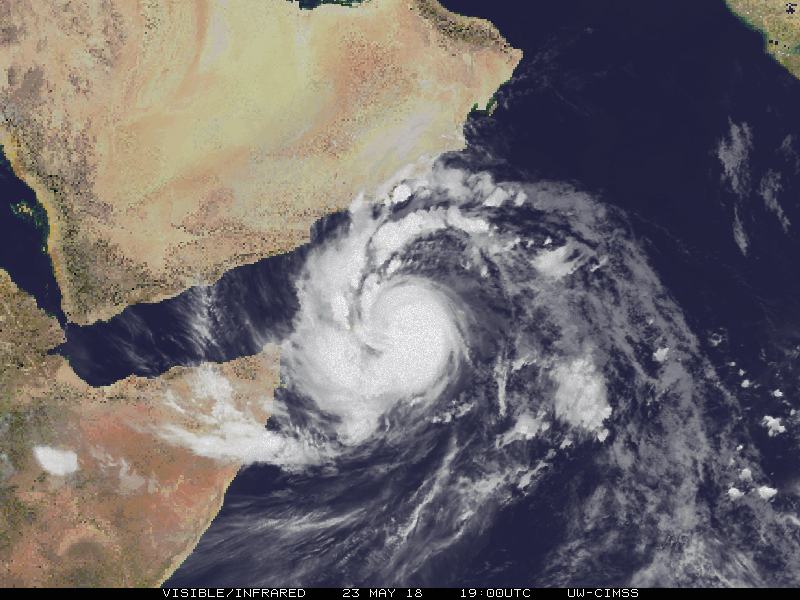 MEKUNU satellite loop ©CIMSS
Environmental conditions remain favorable to allow intensification before landfall over Arabian Peninsula. The cyclone evolving over warm sea surface temperatures, outflow are excellent and wind shear remain moderate. According New Delhi, MEKUNU could intensify into an Extremely Severe Cyclonic Storm stage before landfall.
Landfall expected for next 48h
During next 2 days, MEKUNU is expected to track north northwestward along the subtropical ridge centered in north and east, until landfall over south Oman coasts, around saturday morning. Violent wind speed of 160-170 kmph can be reached gusting to 190 kmph close Salalah (Oman).
PR