Surreal image of the eye of Hurricane Dorian captured in Hope Town
Surreal image of the eye of Hurricane Dorian captured in Hope Town
September 6, 2019: 05 UTC - Surreal image of the eye of Hurricane Dorian captured from Abaco Island. This image was taken by hurricane chaser Jim Edds on September 02 in Hope Town, located in the north of Elbow Cay Island which was the first island impacted by the eye wall.
The pic of the day !
Day after day, images of desolation on the islands of the North Bahamas continue to shared on the web. Hurricane Dorian has plunged Abaco Island and Grand Bahama into the most complete settlement. A photo recently released will add an unrealistic filling to this frightening cyclonic episode. Hurricane chaser Jim Edds published via his twitter account an image as magical as it is distressing.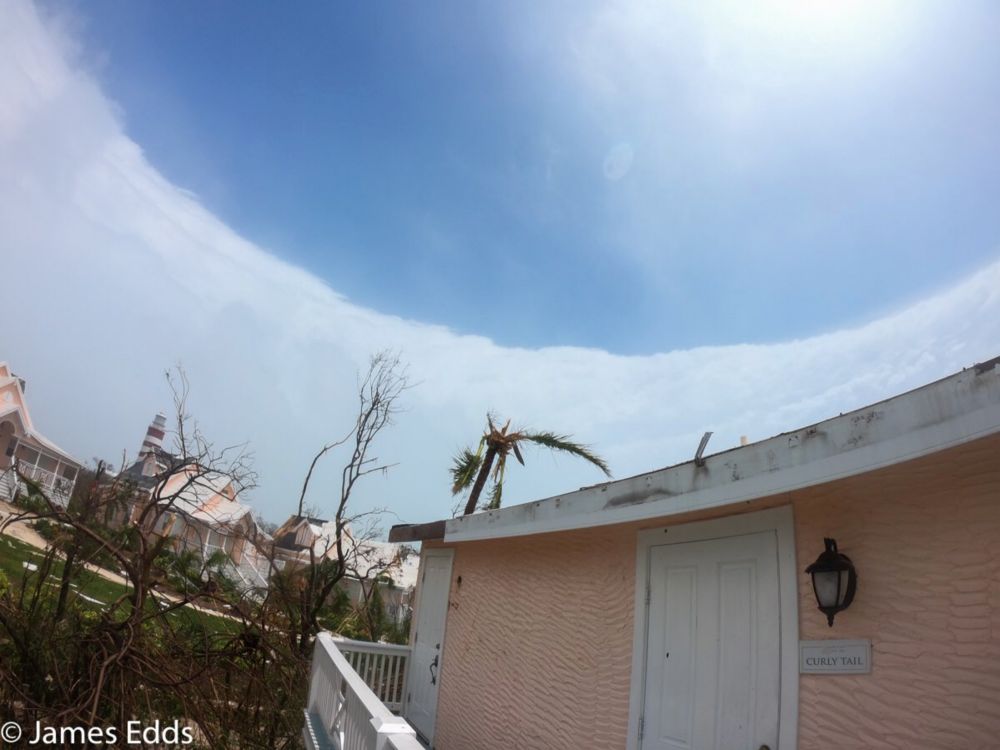 He who has already chased monster like Hurricane Katrina or Super Typhoon Haiyan, went to Abaco Island to experience Hurricane Dorian. During this probably very intense moment, the Hurricane Chaser found himself in the eye of the cyclone. Located in Hope Town, Jim Edds lived the most unreal and iconic phenomenon of tropical cyclones.
A surrealist experience
If the images of the eye via satellite or broadcast by the Hurricane Hunter are impressive (see the video below), that taken from the ground by Jim Edds is spectacular and surreal. In the core of the cyclone, we discover a totally clear sky, revealing a beautiful blue sky. All around of this immaculate sky, we can see the eye wall, represented by this ring of deep convection.
This area is the most feared of the cyclone ! In this little ring of a few kilometers diameter that are concentrated the most violent weather. The serenity that prevails in this calm area, contrasts with the chaos and the hell that reigns around, in this terrible eye wall. The whole, seen from the plane, recalls the steps of a huge stadium, named "stadium effect", due to this structure proper to powerful tropical cyclones.
It is very rare to be concerned by the eye. Only experienced cyclone chaser have the opportunity to experience this exceptional scene several times. Experience the cyclonic conditions in the eye wall and to penetrate in the eye are their objectives. Mission completed for Jim Edds.
PR
Source : Jim Edds / ExtremStorms