Super Typhoon Hagibis strengthens and heads to Japan
Super Typhoon Hagibis strengthens and heads to Japan
October 9, 2019: 05 UTC - The Super Typhoon Hagibis has strengthened again reaching for the 2nd time the equivalent of a category 5 on the scale of Saffir Simpson. A direct impact over Japan during this weekend remains the most likely scenario.
Hagibis 2nd most intense cyclone of the year
The Super Typhoon Hagibis, which is moving in the Pacific Northwest, weakened Tuesday, October 8th. An eyewall replacement cycle (ERC) was responsible for this weakening. But as expected, the intensification started again at the end of the ERC, allowing the cyclone to reach an intensity of 140 kt in sustained wind according to the JTWC. This corresponds to a category 5 which is the top of the Saffir Simpson scale. Hagibis is therefore the second most intense cyclone of the year, tied with Wupit and behind Dorian.
The typhoon has probably reached or will reach its peak of intensity during today. Subsequently, the typhoon is expected to weaken slowly while continuing to track Northwestward or North Northwestward towards a weakness in the subtropical ridge caused by a trough. The system will now move closer to Japan. A sharp shift towards East Northeastward is suggested by the global models over the next 72 to 96h.
Japan and Rugby World Cup for target
Impact over Japan will depend on the timing and scale of this shift. If there is uncertainty about the impact zone, the path beam sees a real landfall threat on the Shikoku and Honshu coasts at a sufficiently high intensity to create severe hurricane conditions. In addition, it should be noted that this system could affect a wide area due to its large size.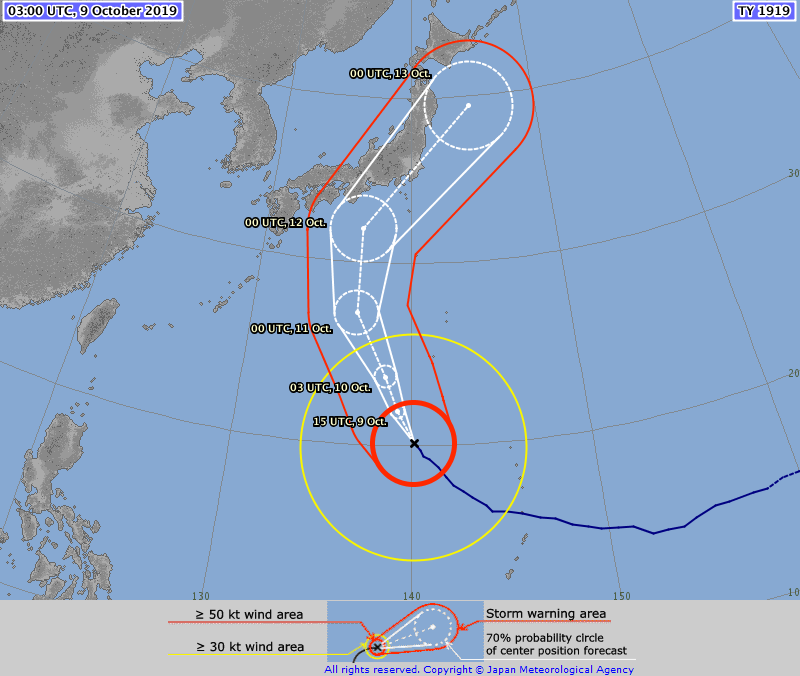 The deterioration should begin at the end of the week, which raises questions about the course of the weekend games for the Rugby World Cup. The Nissan stadium, where the France-England match is scheduled for Saturday, is potentially on the Hagibis trajectory. In case of cancellation, the federation has planned to declare a draw. A situation that would be really unusual and never seen in the history of Rugby World Cup.
PR
Source: JTWC // RSMC Tokyo // NOAA