Strong cyclone activity in the Australia sector with Esther and Ferdinand
Strong cyclone activity in the Australia sector with Esther and Ferdinand
- February 25, 2020: 06 utc -
Cyclone activity is significant in the Australian region. Two systems are monitored, the ex-tropical cyclone Esther which evolves over the North of Australia and the cyclone Ferdinand on the side of the South-East Indian Ocean.
Esther and Ferdinand
Cyclonic activity in the southern hemisphere has deserted the southwest Indian Ocean, to focus on the Australian region. Two systems are currently being followed. First, we have the ex tropical cyclone Esther which formed in the Gulf of Carpentaria and which is now evolving over northern territory. This system continues to be closely monitored, insofar as the system continues to be well defined and has a significant re-intensification potential when it emerges over the Indian Ocean side this weekend.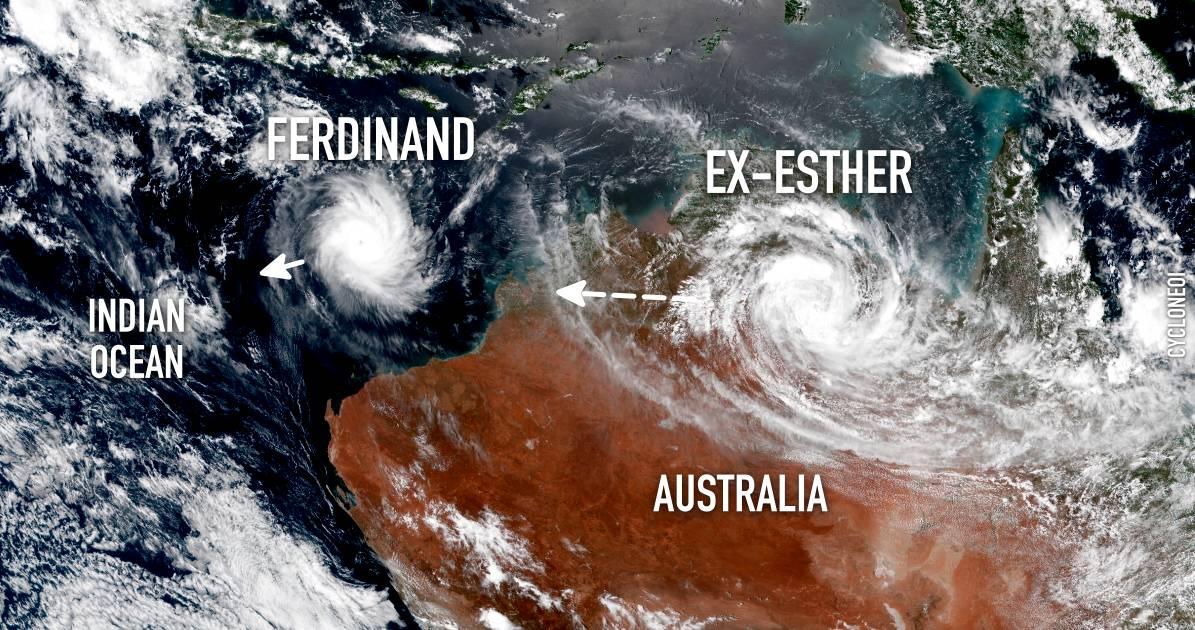 credit : RAMMB
The other activity in progress concerns tropical cyclone Ferdinand, which evolves off the west coast of Australia. The system takes advantage of favorable environmental conditions to intensify. The intensity peak could be reached over the next 24 hours to 36 hours. Ferdinand seems to have the potential to reach the equivalent intensity of a category 3 on the Saffir-Simpson scale. Fortunately, this dangerous cyclone will not affect any inhabited land.
High risk of flooding in the northern territory
Note that several flood risk alerts are in force in the northern territory. The precipitation generated by the low pressure circulation associated with Ex Esther is significant. According to the Bureau Of Meteorology, several coastal regions of Carpentaria have received between 150 and 200mm in the past 24 hours.
This heavy rain could cause flash floods in the south of Carpentaria and the north of the Barkly district. This risk extends east of the Gregory district early Wednesday.
PR