Storm YVETTE did not hold its rank for long
Storm YVETTE did not hold its rank for long
At 0000UTC, the system was positioned by 14.3E and 115.2S at 760 km from Port Hedland on the northwest coast of Australia. It was moving slowly to the east at 6 km/h. The last hours were difficult for Yvette who was downgraded to a Tropical Depression. Perth Cyclone Center indicates that there is still chance for the system to reactivate near the coast.
Why this significant weakening of YVETTE
Over the last night the system has weakened considerably. Satellite imagery this morning is uncompromising showing the Ex-Yvette low layer center totally exposed and separated from the main convection. This configuration (shear pattern) is the sign of a very high shear and particularly harmful to any tropical disturbance. According to the CIMSS maps it can be seen that the depression evolves in a highly sheared environment, which is extremely unfavorable. To the problem of altitude constraint, the presence of dry air around Ex-Yvette adds problem to its situation. Under these conditions the system could not resist for long.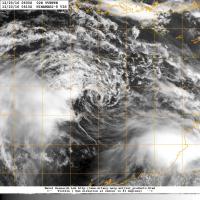 A possible reactivation of Ex-Yvette
The trajectory forecasting philosophy remains the same, namely, a shift in the direction of the southeast to come. On this trajectory the system should touch the land between the eastern coasts of Pilbara and west of Kimberley during or after the Christmas weekend. At the level of intensity, the relaxation of the expected shear on Saturday could allow Ex-Yvette to reactivate while approaching the coasts. According to the Bureau Of Meteorology, the system would impact the coasts in Category 1 (Moderate Storm). However, the presence of dry air is still a significant problem to this hypothesis and could therefore limit this re-intensification if it were to take place.
No cyclonic alert in force
Ex-Yvette should therefore move slowly eastward before curving south-east on Friday. The system could generate gusts on the coast as early as Saturday morning or on Christmas Day. There are no alerts at this time, however, the BOM is asking the residents between Cape Leveque and Port Hedland to keep an eye on developments and upcoming cyclone bulletins.
PR
source : Australian Bureau Of Meteorology