MEKUNU : landfall over Oman close to Salalah around midnight
MEKUNU : landfall over Oman close to Salalah around midnight
The Very Severe Cyclonic Storm MEKUNU intensified into an Extremely Severe Cyclonic Storm. It is very likely to move north-northwestwards and cross south Oman-southeast Yemen coasts between 53 0E and 54 0E close to south of Salalah, around midnight of today, the 25 th May, 2018.​
MEKUNU : final approach
At 0900z Tropical Cyclone MEKUNU was located near 16.0N 54.5E according JTWC. The system tracked in the last 6 hours north northwestwards at 6 knots. MEKUNU, intensified into an Extremely Severe Cyclonic Storm stage and it expected to landfall over Oman this night beetween Yemen and Salalah (Oman).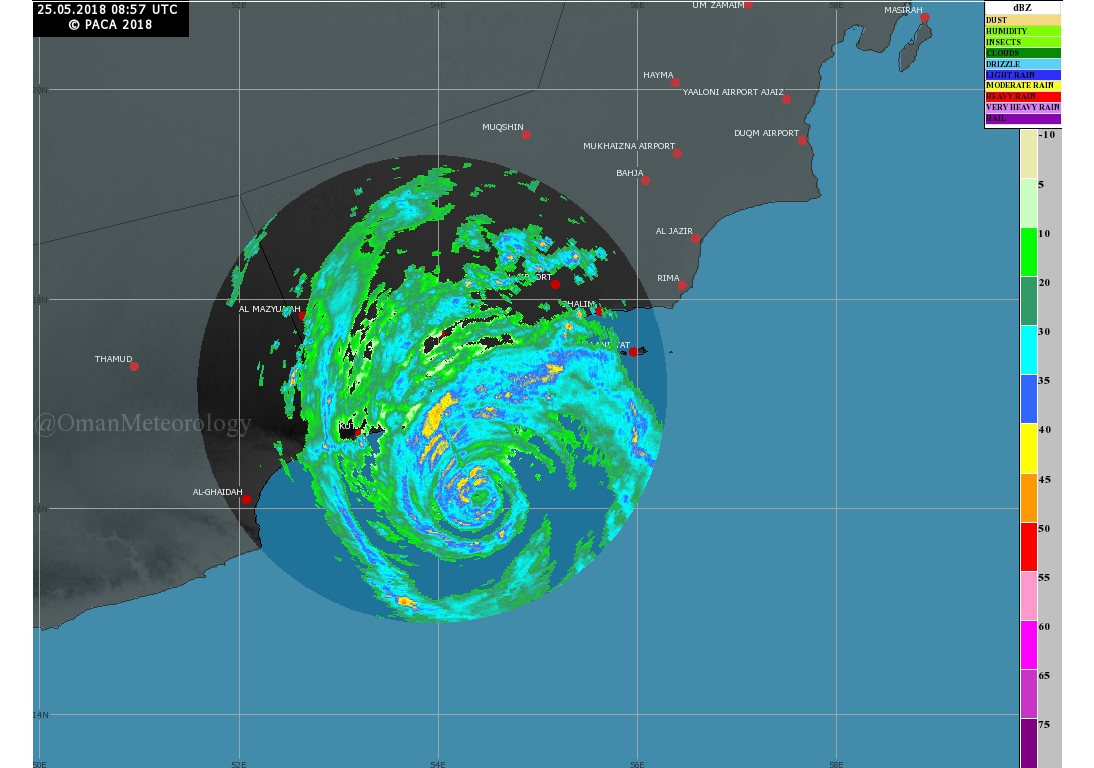 Tropical Cyclone should to maintain intensity before landfall due to warm sea surface temperature. It's a dangerous cyclone that will hit Oman this night. Latest radar show that the cyclone MEKUNU is closing in on Oman. According JTWC, max sustained wind reach 90 kt (166 km/h) and gust 110 kt (200km/h).
Risk of flash flood
Main convective clouds band approach the coastal areas of Dhofar in association with strong gale wind and very heavy rainfall with rage from 200 to 300mm and flash floods.
The sea state will be rough along Dhofar and Al-Wusta coast with maximum wave height beetween 8.0 to 12.0 meters expected rising in sea level causing flood in coasts in particular low laying areas.
PR