Kyarr weakens and a new cyclogenesis in the Lakshadweep-Maldives area
Kyarr weakens and a new cyclogenesis in the Lakshadweep-Maldives area
October 30, 2019: 05 UTC - Cyclone activity continues in the Arabian Sea with two centers of interest. In the North, Kyarr continues to lose intensity, while in the Southeast, a new cyclogenesis is in progress in the Lakshadweep-Maldives area.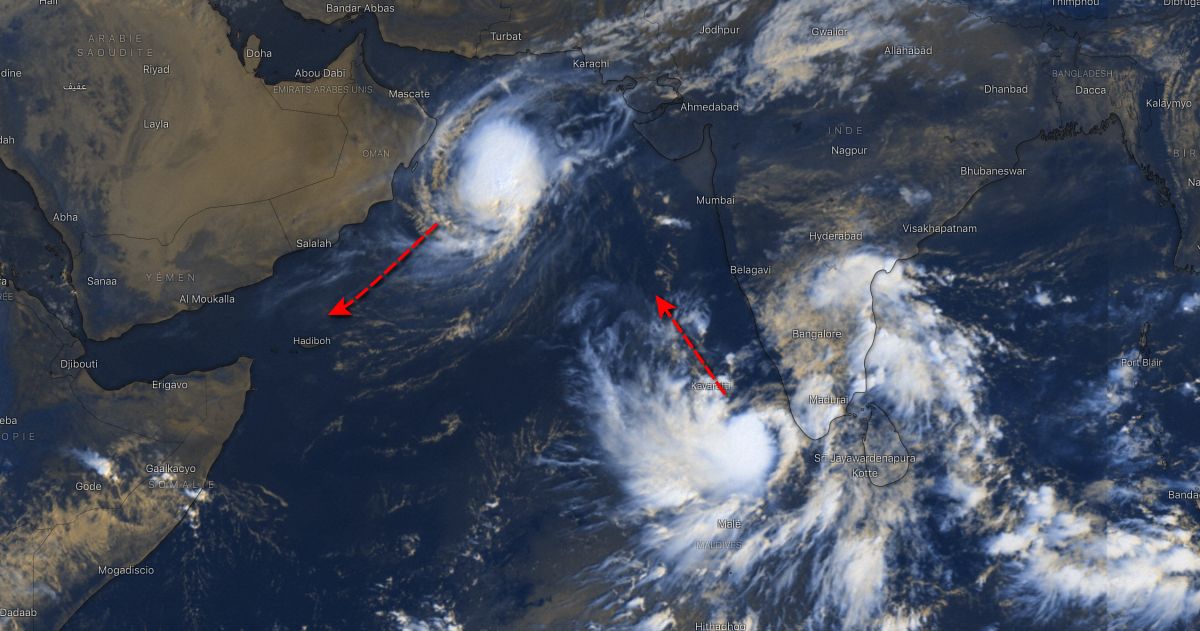 - WINDY -
Kyarr continues to weaken
The North Indian Ocean is currently experiencing a peak of cyclonic activity, currently concentrated in the Arabian Sea. In recent days, Kyarr has gained attention as the most powerful cyclone observed in 12 years in this area. But, the machine is getting stuck since the beginning of the week. Kyarr has lost some of its beauty and is now suffering from a deterioration of environmental conditions and an increasingly of drier. The RSMC of New Delhi classifies it as Very Severe Cyclonic Storm, which is the equivalent of a category 2 on the Saffir-Simpson scale.
Kyarr should gradually change track by turning westward and then southwestward over the next 24 to 36 hours. A lanfdfall over Arabian Peninsula now seems excluded. On this course, the system will move closer to Socotra while weakening. A passage in the immediate vicinity or over the island is expected during this weekend. At that moment, kyarr should be strongly weakened. It could bring precipitation and an acceleration of the wind, but nothing comparable to what Socotra had experienced with the cyclones Chapala and Megh in 2015.
New cyclogenesis in progress
A cyclogenesis is in progress in the South-East of the Arabian Sea, in the Lakshadweep-Maldives area. The rather favorable environmental conditions, could allow a development during the next days. The system numbered 99B, which does not presently pose any threat for lands, is expected to move northwest along the west coast of India. If the system reaches Cyclonic Storm stage, it will be named Maha.
PR