Hyper cyclonic activity in East Pacific and North Atlantic
Hyper cyclonic activity in East Pacific and North Atlantic
September 18, 2019: 12 UTC - Hyper cyclonic activity in the East Pacific and Atlantic. At least 6 storms or hurricanes are tracked by the National Hurricane Hunter. And it is not excluded that other system are formed over the next few days.
6 systems monitored by NHC in same time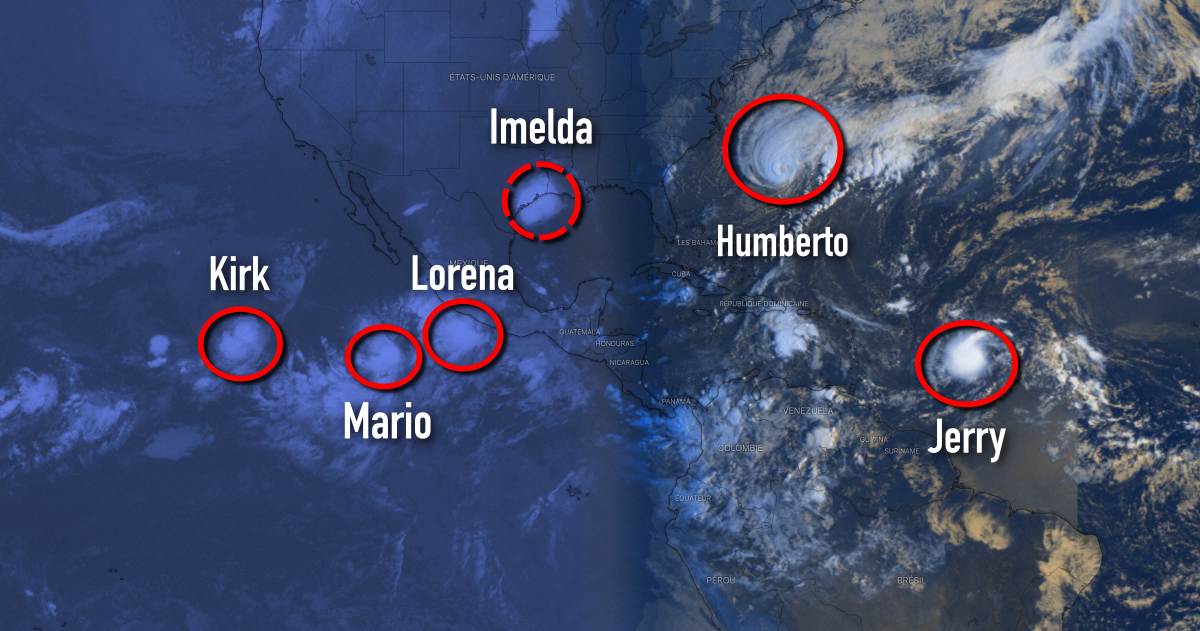 It's the peak of the hurricane season in the northern hemisphere and it shows. The poor forecasters at the National Hurricane Center must be overwhelmed. The North Atlantic and the Eastern Pacific, which are under the responsibility of the NHC, are currently experiencing a period of cyclonic hyper activity with 3 simultaneous tropical cyclone per basin.
In the Eastern Pacific, Kiko, Mario and Lorena animate the basin. The first, which is in a weakening phase, has nevertheless managed to reach the status of major hurricane. Currently tropical storm, it is not impossible that it will become a hurricane again in the next 24 to 48 hours. He does not threaten for land like Mario. However, Lorena is to be closely watched as it could generate heavy rains on the coasts of the Mexican states of Guerrero, Michoacan, Colima, and Jalisco in the coming days.
Humberto, a strong category 3 is getting closer Bermuda
In the North Atlantic, Humberto is currently the star. The hurricane is a strong category (100 kt), with gusts to 120 kt. He will be to pass northwest and north of Bermuda tonight. Strong winds will sweep the archipelago and a broad and dangerous cyclonic swell will strengthen during this day, with a real risk of submersion of the coast.
In the Gulf of Mexico, the storm Imelda will not fizzle, landing quickly on US shores. On the tropical central Atlantic side, a storm was named Jerry by the NHC. The system that had been under surveillance for several days is expected to strengthen and reach hurricane status. The system should follow a West-Northwest trajectory which will gradually bring it closer to the North of the Lesser Antilles.
PR
Source: NHC