Hurricane Lorenzo enters the cyclonic history of the North Atlantic
Hurricane Lorenzo enters the cyclonic history of the North Atlantic
On 27/09/2019

at 09:36

In Cyclone
0 comments
September 27, 2019: 05 UTC - With an intensity of 125 kt and a minimum central pressure of 939 hPa, Hurricane Lorenzo enters the cyclonic history of the North Atlantic. Never had such a powerful system been observed on the eastern basin since the beginning of the satellite era.
Lorenzo in the history of the North Atlantic
Hurricane Lorenzo has become, as expected, a powerful category 4. The intensity estimate, based on the satellite pattern, gives max sustained winds of 125 kt and gusts of 150 kt. This vast Cape Verde cyclone has continued to increase significantly over the past few hours. The minimum central pressure is estimated by the National Hurricane Center at 939 hPa, at the point made at 03z.
This phenomenon, which was originally a simple stormy cluster evolving over African lands, has become a large and powerful hurricane. Lorenzo also managed to write a new line in the history of the North Atlantic, becoming the most powerful cyclone to evolve over the eastern part of the basin (East of 45W). He thus far surpasses Julia (2010) who was the last category 4 in this part of the Atlantic.
Potential threat for the Azores?
fortunately, Lorenzo is currently evolving in an uninhabited area. The system had the good idea to follow a trajectory of parabolic type, allowing the Lesser Antilles to stay very far from this dangerous cyclone. But, the track forecasts continue to suggest a potential threat for the Azores archipelago in the first part or middle of next week. Although a weakening is expected from the next 24 hours, Lorenzo could transit near the archipelago, bringing hurricane winds and a large cyclonic swell.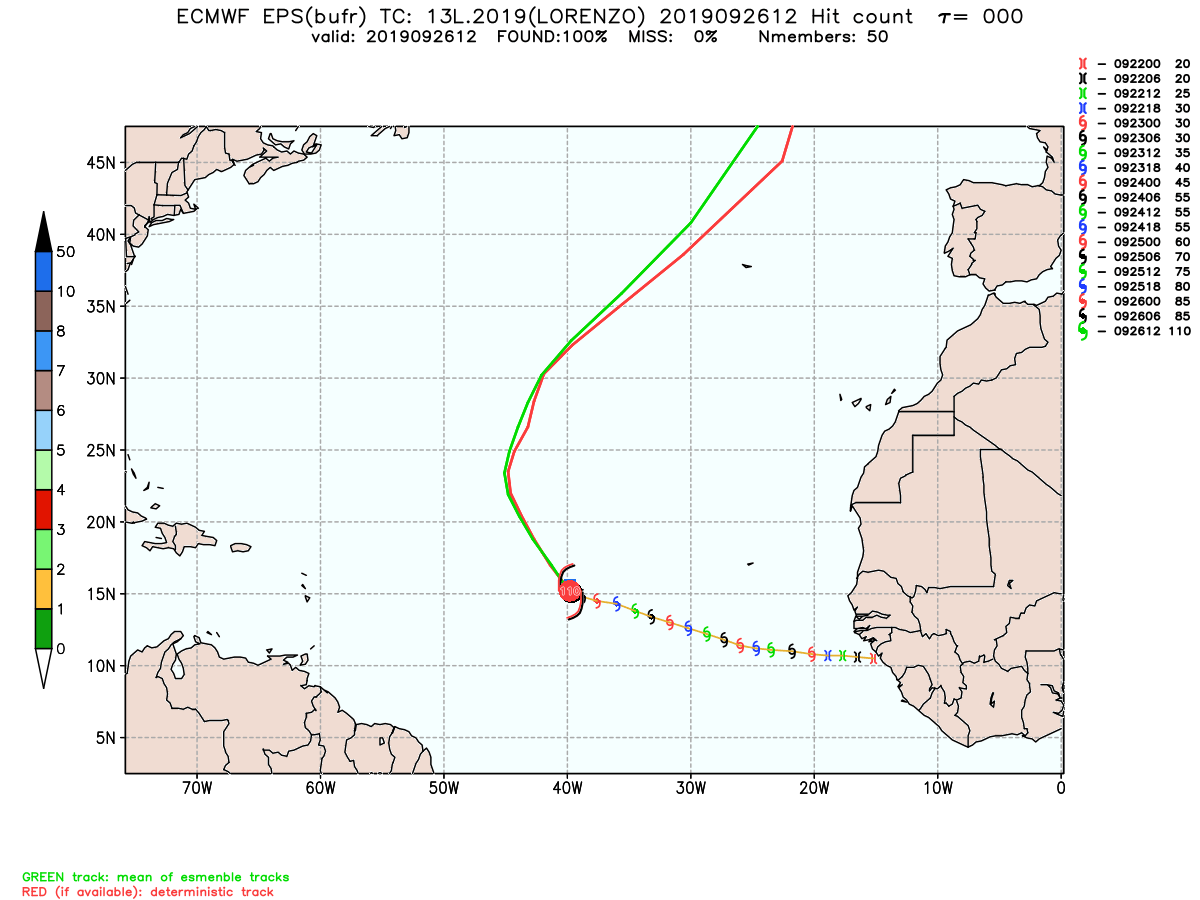 It should be noted that the most stronger hurricane hit in the archipelago was observed in 1926 according to Philip Klotzbach, a meteorologist and researcher at the University of Colorado. This hurricane impacted the Azores with an intensity of 90 kt, the equivalent of a category 2.
PR
Source : NHC // Philip Klotzbach // RealEarth // NOAA