Humberto near the Bahamas and tropical waves in East of Lesser Antilles
Humberto near the Bahamas and tropical waves in East of Lesser Antilles
September 14, 2019: 10 UTC - The North Atlantic Basin is currently active. In addition to tropical storm Humberto moving near the Bahamas, several suspect areas are heading to tLesser Antilles. It is not excluded that one of them can significantly developed.
Humberto 8th storm of the hurricane season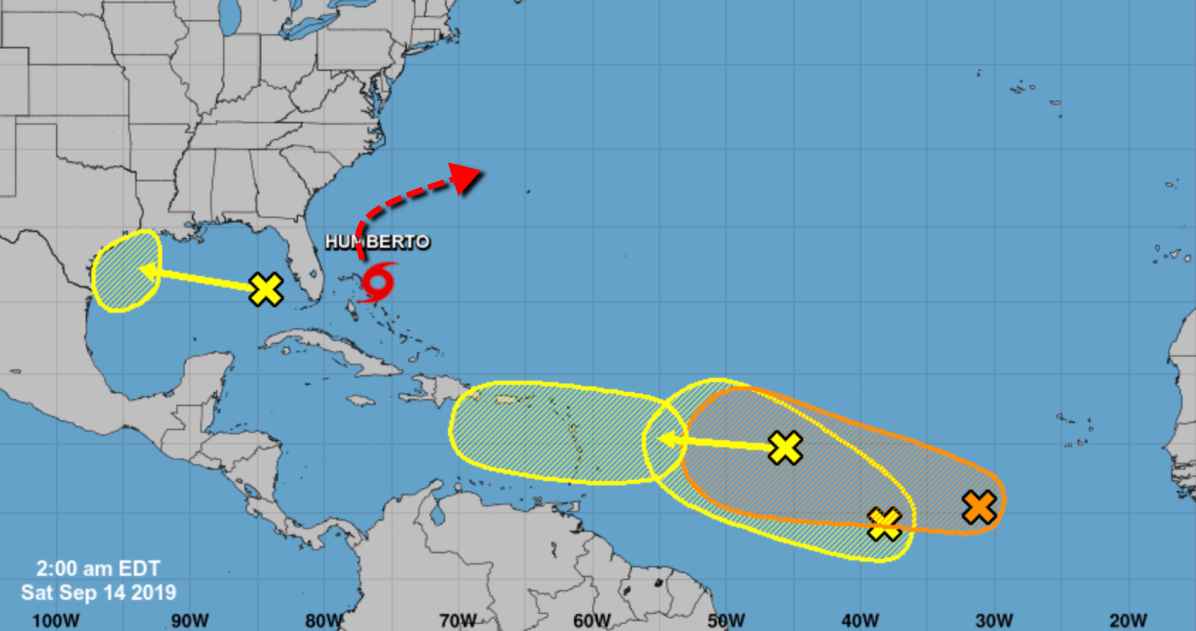 After a relatively quiet first part of the season, the North Atlantic Basin returned to normal levels of activity. Tropical Storm Humberto, which has just been named by the National Hurricane Center, is the 8th storm of the 2019 hurricane season. The activity at the end of August and early September helped to catch up. The Accumulated Cyclone Energy index, which measures the level of activity, is currently at 58.1 (56.3 climatology for the same period).
Humberto, which moves near North-East of the Bahamas, track to Northwestward at 6 kt. It should maintain this for the next couple of days and stay away from the east coast of Florida. Environmental conditions are conducive to intensification. The hurricane stage is suggested by the NHC and tpeak could reached over the next 96 hours. There is apparently no threat to the United States. The track forecast suggest northeastward from Sunday. However, the situation could be to watch for Bermuda in the second part of next week.
Tropical wave traffic jams
On the tropical Atlantic side, 3 disturbances are under surveillance. One located in South West of Cabo Verde, could have potential for development. The NHC estimates at 60%, the risk that it becomes a tropical depression in the next 5 days. For the moment, all of these tropical waves are moving towards the Lesser Antilles. The situation will be to watch from the corner of the eye.
PR
Source: NHC