Frightful images of post-hurricane Dorian in Abaco Island
Frightful images of post-hurricane Dorian in Abaco Island
September 5, 2019: 06 UTC - The aerial images of the Abacos Islands show the extent of the disaster. The terrible hurricane Dorian he grinded northern Bahamas. The latest human toll reports at least 20 fatalities.
Hurricane Dorian is a historic tragedy
Hurricane Dorian is a historic tragedy, according to Prime Minister Hubert Minnis. The worst cyclone in the history of the Bahamas and one of the most violent in the history of the North Atlantic Basin, was a massive destruction machine. This is revealed by aerial footage filmed at Abaco Island, published by Terran Knwoles on his Facebook page. These highlight the extent of the destruction.
Hurricane Dorian was ruthless. The phenomenon generated extreme cyclone conditions on Abaco Island and Grand Bahama. The winds that blew with unheard-of violence and the exceptional storm surge that swept through, literally devastated, ravaged and ransacked these islands. The circumstances of this hurricane experience have been exceptionally unfavorable.
Abaco Island was directly impacted by Dorian's Eye Wall which was a Category 5 hurricane at full power. While the island of Grand Bahama has been affected by the paroxysmal cyclonic conditions for an extended period of 24 hours. The combination of these factors explains the extent of the disaster.
There are also questions about building standards and land use planning that have probably aggravated the destructive nature of Dorian. This problem is recurrent in islands exposed to cyclones. Demographics and construction in inappropriate areas increase significantly the risk of a catastrophic impact.
Dorian is still a dangerous cyclone
The latest human toll reports at least 20 fatalities. This number will continue to grow in the coming days. According to the Red Cross, more than 13,000 homes are damaged or destroyed and more than 60,000 people need water. The Red Cross estimates that 99 percent of Abaco and Grand Bahama population will need emergency assistance.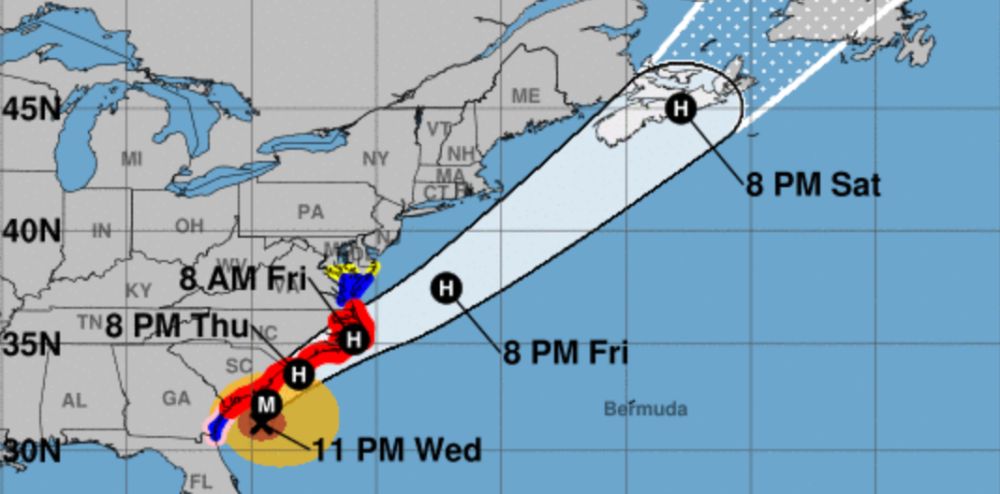 Dorian, which is still a dangerous cyclone, is expected to move very near South and North Carolina coast in the next few hours. Strong winds and a dangerous storm surge are expected along the coasts of Georgia, South and North Carolina and areas of southeastern Virginia according to the National Hurricane Center.
PR
Source : NHC