Eye of powerful hurricane Dorian over Grand Bahama Island
Eye of powerful hurricane Dorian over Grand Bahama Island
September 02, 2019: 07 UTC - Ferocious hurricane Dorian continues his destructive course through Atlantic. After sowing chaos on the Abacos Islands, the eye of the powerful cyclone crosses slowly Grand Bahama from east to west. It's probably a terrifying night on the island.
As expected, the impact of Hurricane Dorian will have been terrible on the islands of North Bahamas. It is a hurricane with incredible force and violence that hit Abaco Islands Sunday. At the same time, Dorian reached its peak of intensity when crossing the islands with maximum sustained winds to 160 kt (295 km / h) and gusts to 190 kt. This force at the moment of impact is equivalent to the mythical Hurricane of the Labor Day of 1935.
READ MORE: Impressive video of the Dorian violence in the Bahamas
Virulent hurricane winds swept the Abacos Islands, with a dangerous storm surge. The passage of the eye to Marsh Harbor, was a moment of ephemeral respite. During this lull, residents ventured out, forcing the NHC to ask the population to take shelter immediately before the passage of the second eye wall.
Around 23:30 UTC, the eye leaves the Abacos Islands and begins to cross Grand Bahama Monday, at 00:50 UTC. The northernmost island of the Bahamas is also affected by the worst. It is most likely a cataclysmic night experienced by the local population currently. In addition to strong winds, a catastrophic storm surge is underway on Grand Bahama. Dorian track westward very slowly. Monday is going to be a long day for the ipopulation of the island.
On the night of Monday to Tuesday, Dorian should begin to move away from the Bahamas with northern track. The hurricane is expected to move along the Florida peninsula. However, the closest distance of passage is impossible to determine. The uncertainty is still very high and a landfall is not yet totally excluded. Everything will depend on the timing and extent of the turn to the north.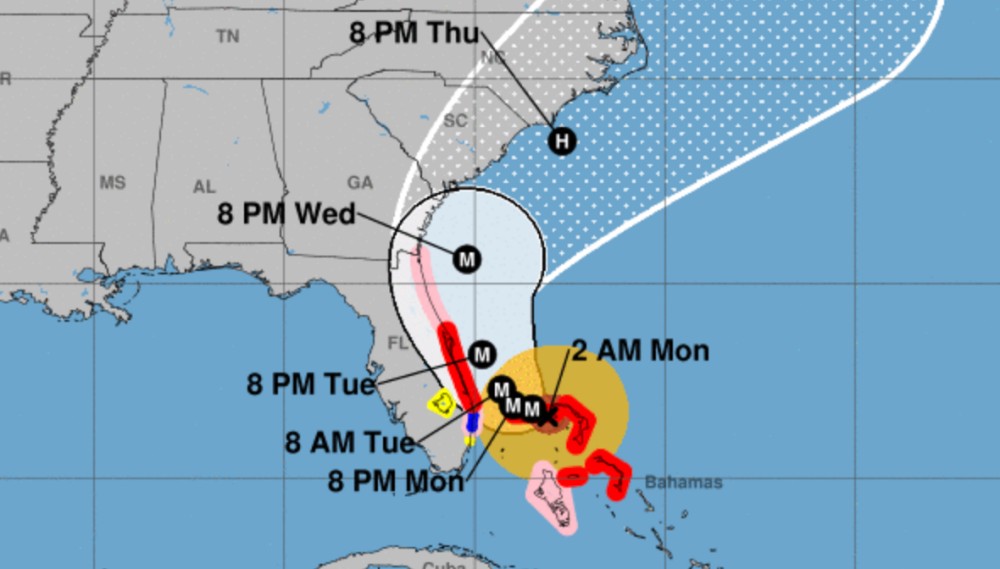 Due to the potential threat and a dangerous storm surge expected on FLorid's east coast, mandatory evacuation orders were issued for the coastal areas of Palm Beach, Martin and St. Lucia Counties. St. Johns, Brevard and Volusia counties will issue evacuation orders on Monday. To facilitate the evacuation, Governor DeSantis ordered the suspension of tolls on the Florida Turnpike Main Line and on some toll roads across the state.
PR
Source : NHC