Dorian near Carolina and suspect area 94L under surveillance
Dorian near Carolina and suspect area 94L under surveillance
September 6, 2019: 11 UTC - Hurricane Dorian transits near of the North Carolina coast. At the same time, a suspect area numbered 94L, located in the Cape Verde region is under surveillance.
Dorian to Canada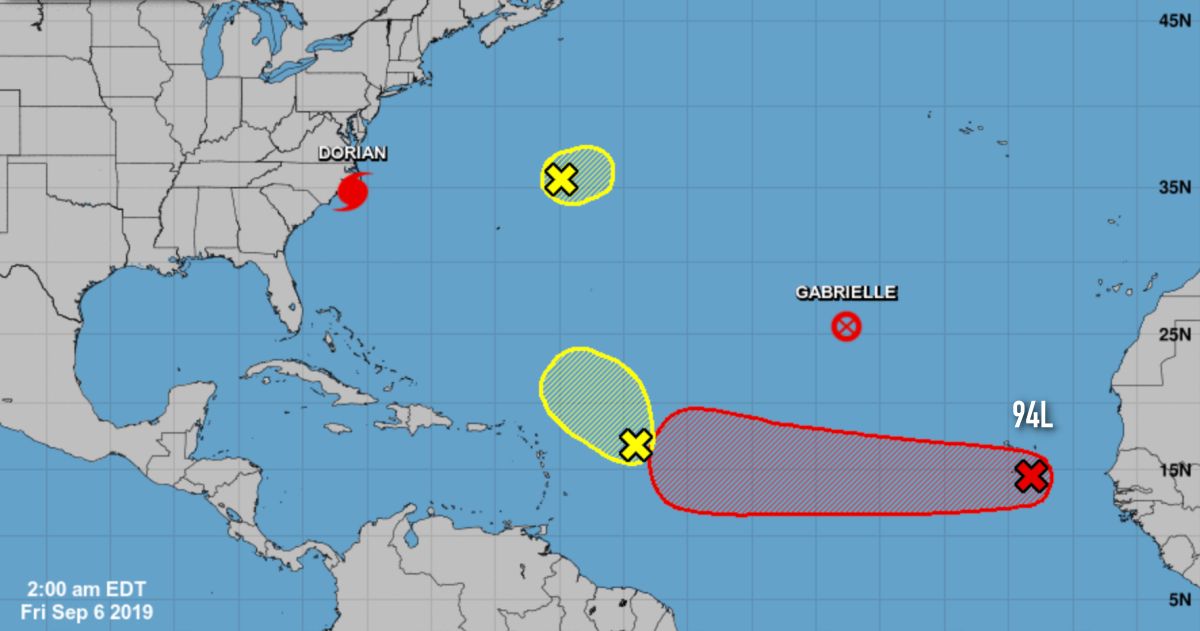 Hurricane Dorian, which continues to weaken gradually, transits near North Carolina coast. The cyclone is still a category 1 hurricane, generating sustained winds of 80 kt (150 km/h) and gusts of 100 kt (180 km/h). The ragged eye of the cyclone rises along the coast causing cyclonic conditions on the northern part of the eye wall. The National Hurricane Center warns that a dangerous storm surge and dangerous winds will persist along the North Carolina coast, portions of southeast Virginia and southern Chesapeake Bay.
In the next few days, the system will track Northeastward. Dorian could landfall on Canada over the province of Nova Scotia Saturday, and over Newfoundland the next day. Subsequently, the system that will significantly accelerate, should begin its extra-tropical transition over the next 48 hours, which will mean the end of this stressful cyclonic episode.
Suspicious area 94L near Cape Verde
Elsewhere in the Atlantic Basin, in the Cape Verde area, a suspect area numbered 94L is under surveillance. This low pressure is not expected to develop over the next 48 hours. However, the environmental conditions could be favorable and allow a cyclogenesis for the next week according to the NHC.
The suspect area is expected to follow a westward track. It is likely to move closer Lesser Antilles during the next week. The risk of formation of a tropical depression associated with 94L is evaluated at 70% by the NHC for the next 5 days.
PR
Source: NHC