Depression over Oman and potential cyclogenesis over Arabian sea
Depression over Oman and potential cyclogenesis over Arabian sea
On 30/05/2020

at 08:53

In Cyclone
0 comments
May 30, 2020: 05 UTC
Coastal regions of the Arabian Peninsula are affected by torrential rain associated with a tropical depression. These rains mainly concern the Sultanate of Oman and Yemen. Off India, a suspect area could evolve into a tropical storm in the coming days.
Depression over Arabian Peninsula
A suspect area numbered 92A which has been under surveillance for several days in the Arabian Sea, landed on the coasts of the Arabian Peninsula. The system could not significantly expand and therefore did not reach the tropical storm stage. On the other hand, the convective activity associated with the system is relatively marked. This activity caused extremely heavy rains over the affected areas.
In recent days, the Sultanate of Oman is lavishly watered. According to the Oman weather service, it was raised 260mm in 48 hours! The forecast models offer an intense rain signal during this Weekend and until the first part of next week on the peninsula. The area of ​​bad weather which is currently located on Oman, will gradually shift to the West and affect from Sunday Yemen.
High probability of storm in Arabian sea for next days
Cyclogenesis could occur in the next few days. Probabilistic data from the European center suggests a high probability of tropical storm formation in south-eastern sector of the Arabian Sea. This cyclogenesis could start from the suspect area 93A located off the Indian state of Kerala.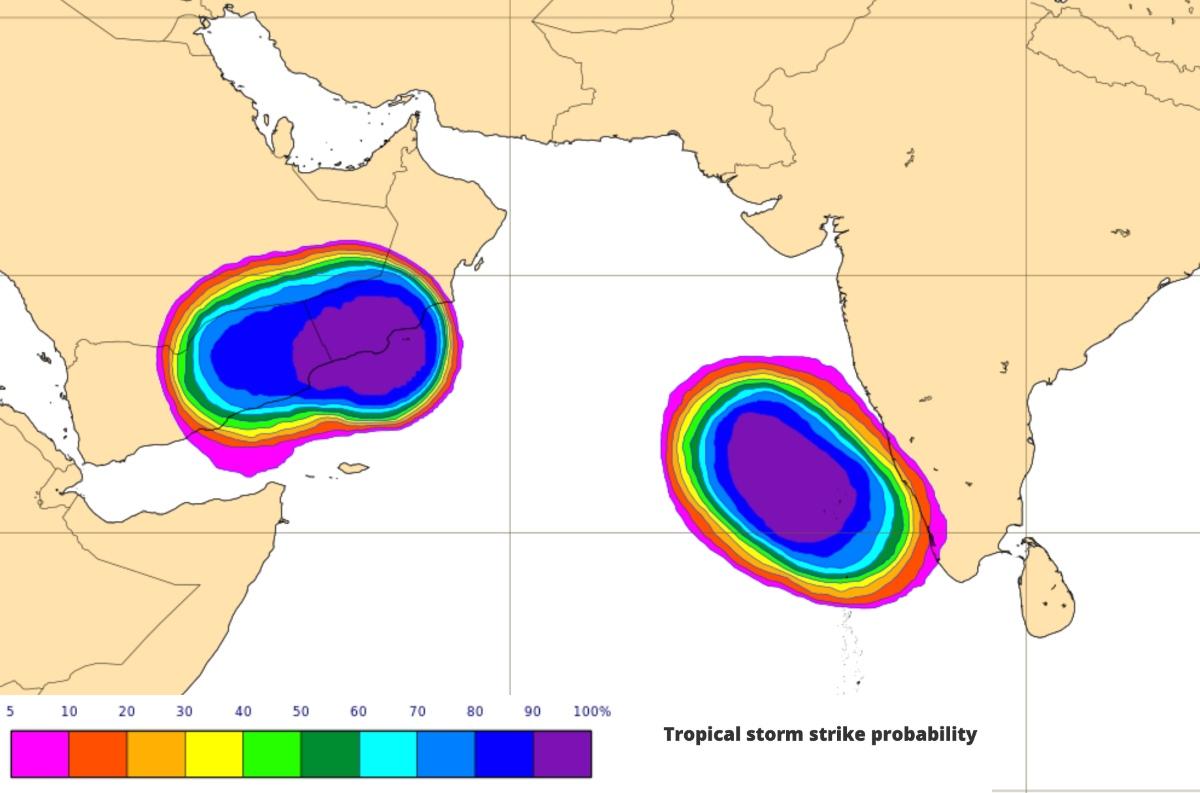 However, uncertainty remains, especially for timing. The euro IFS model in its 18z run proposes a rapid formation of a tropical storm at the end of the Weekend or at the beginning of next week, while Ukmo and GFS suggest a slow development. The speed of intensification will affect the maximum intensity of this phenomenon, which therefore leaves doubts still hanging over the future of this system.
PR