Cyclone Amphan: India and Bangladesh prepare for impact
Cyclone Amphan: India and Bangladesh prepare for impact
May 20, 2020: 06 UTC
Tropical cyclone Amphan will strike. Landfall is scheduled for the end of the day or overnight over south of Calcutta. The storm surge could cause an abnormal rise of sea level and cause flooding in areas directly affected by the core of the cyclone.
Amphan has weakened but remains dangerous
The tropical cyclone Amphan which evolves in Bay of Bengal continues to approach the coasts. The impact is inevitable and should take place at the end of today or overnight on the coastal regions of West Bengal/Bangladesh, in south of Calcutta. The system is showing signs of weakness. The satellite pattern deteriorated as a result of increased wind shear.
However, Amphan remains a powerful and dangerous tropical cyclone. Gusts near the eye still exceed 200 km/h, which is enough for a severe cyclonic impact. Wind from this force can be particularly destructive.
A deadly storm surge
But the most feared phenomenon is the storm surge that accompanies the cyclone. This will cause an abnormal rise of sea level, likely to cause flooding in the areas directly impacted by the core of Amphan. It could reach 4 to 5m in the District of 24 North and South Parganas, 3 to 4m in the East Medinipur District in the State of West Bengal.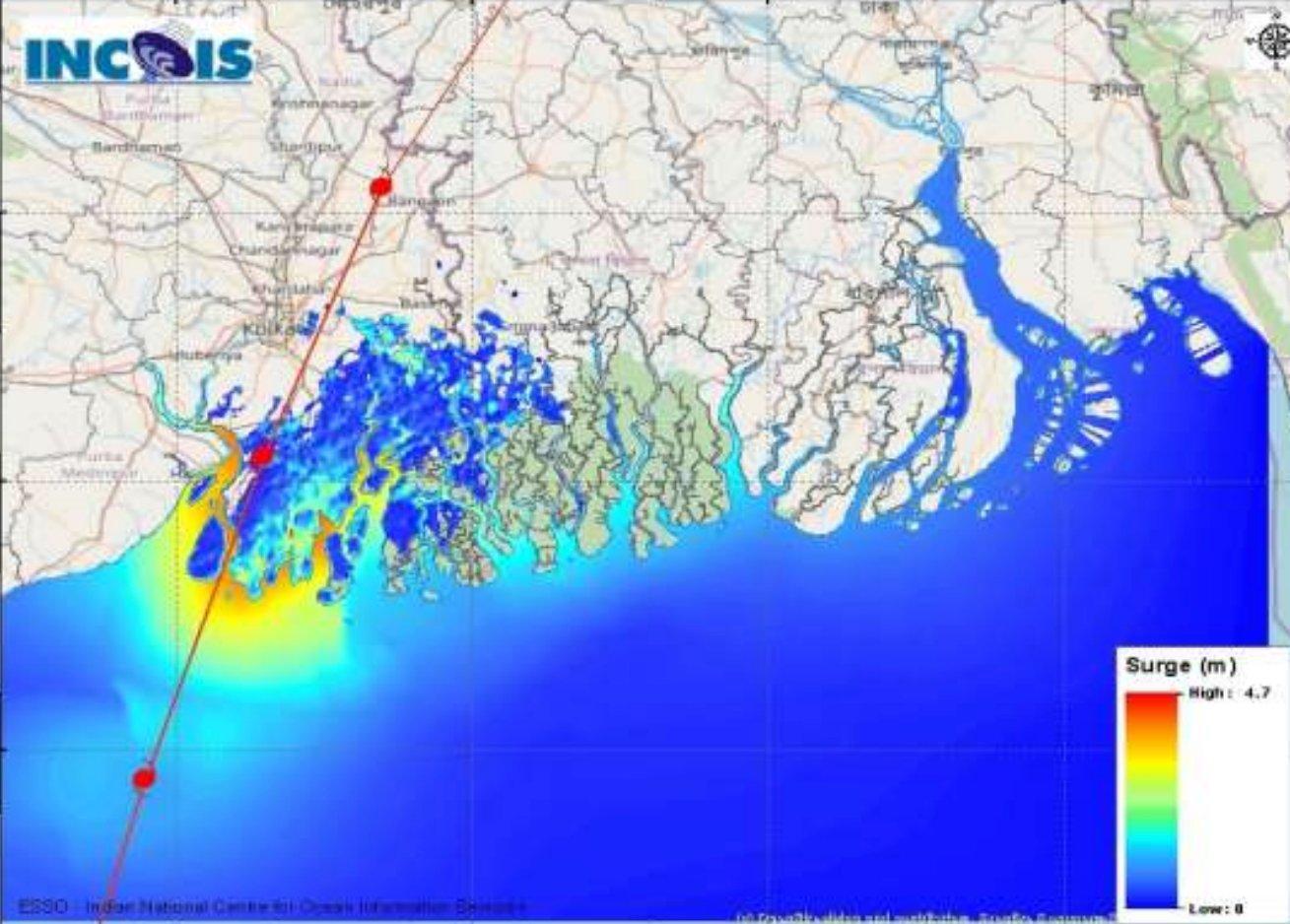 Storm Surge Forecast - IMD
The area to be hit is particularly populated and exposed to the risk of flooding. Evacuation operations are carried out to keep the maximum population away from the coastal regions liable to be flooded during the impact. Note that the epidemic of covid-19 complicates evacuation, the authorities trying to enforce the rules of social distancing.
Effective evacuations
Evacuation operations have since proven to be very effective in limiting the impact of cyclones in these regions. India and Bangladesh are countries that paid a heavy price to the cyclones. We can say that the dramatic lessons of the past have been learned. Now let's hope that the cyclone spares this very vulnerable population.
PR