Bulbul will impact the shores of West Bengal and Bangladesh
Bulbul will impact the shores of West Bengal and Bangladesh
On 09/11/2019

at 11:43

In Cyclone
0 comments
November 9, 2019: 07 UTC - The tropical cyclone Bulbul will impact the shores of West Bengal and Bangladesh late in the day and into the night. Bulbul will still be a strong storm at the moment of impact despite an expected weakening.
Impact at the end of the day or this night
At 06 UTC, the tropical cyclone Bulbul that is evolving in the Bay of Bengal was located at 95 km East Northeast of Paradip (Northwest India). The system is heading north at about 15 km/h and is approaching the shores of West Bengal. Bulbul is a dangerous cyclone with gust of 90 kt (166 km/h) according to the JTWC. The system is expected landfall between Sagar Islands and Khepupara at the end of the day or at night. Despite this weakening, Bulbul could still be a severe storm and potentially generate hurricane conditions in the area crossed by the core of Bulbul.
In Bangladesh, evacuation orders were issued in coastal areas that were impacted by the system. The Bangladesh Meteorological Department suggest an abnormal rise of sea level from 5 to 7 feet. The coastal areas of Chattogram, Noakhali, Laxmipur, Feni, Chandpur, Borguna, Bhola, Patuakhali, Barishal, Pirozpur, Jhalokathi, Bagherhat, Khulna, Satkhira, may experience floods. It should be noted that the astronomical tide could worsen the storm surge.
Storm tide a deadly phenomenon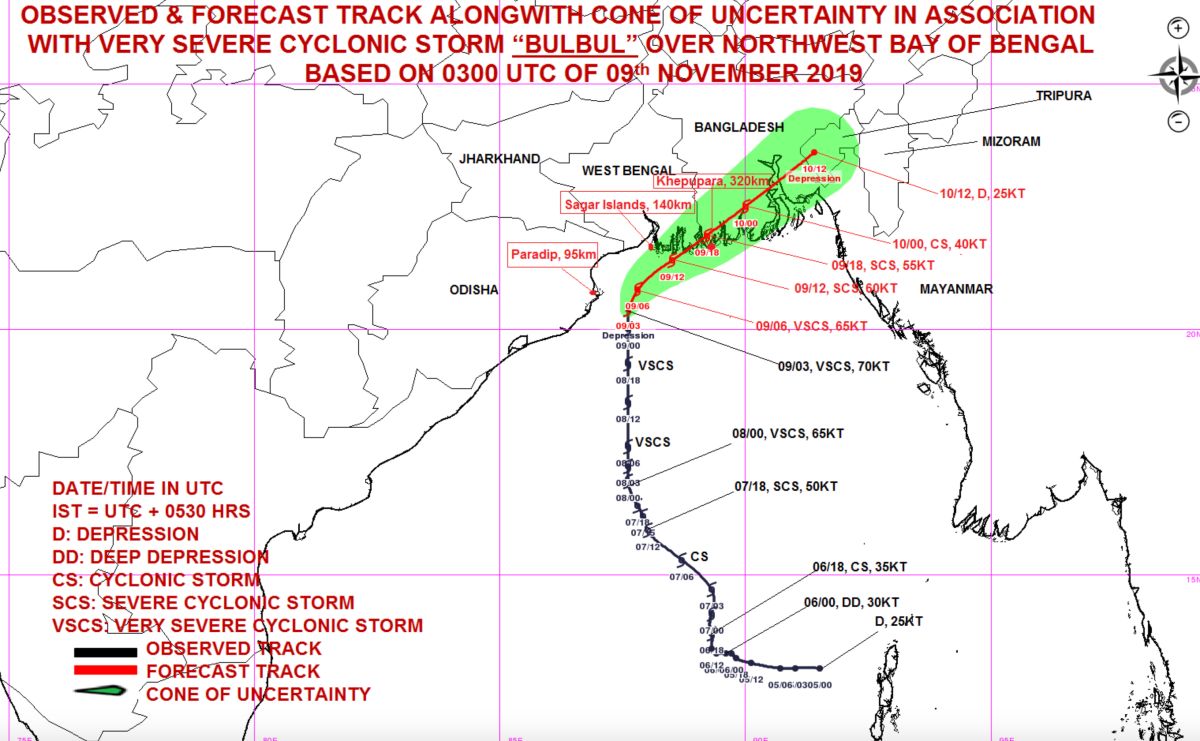 The storm tide is less known to the general public. However, it is the most dangerous and deadly phenomenon of the cyclone. At the beginning of the year Mozambique was hit hard by this phenomenon during the cyclone Idai. Recall also that Bangladesh experienced a catastrophic storm surge in 1970 that caused one of the worst cyclone-related catastrophes in history.
PR
Source: RSMC New Delhi // Bangladesh Meteorological Department